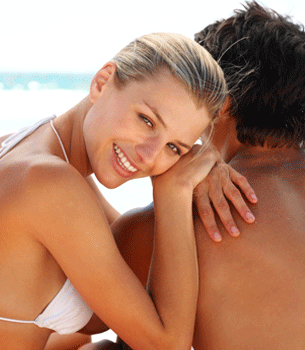 Protect Your Skin from the Sun
We all love spending time in the sun, whether we're soaking up deliciously warm rays on the beach or enjoying a bright afternoon on the front porch. However, sun exposure can damage the skin, accelerate the aging process and may even contribute to the risk of some types of cancer. With that in mind, we need to take steps to protect ourselves from excessive sun exposure, and there are plenty of ways to do so.
Minimize Exposure - The main way to protect your skin is to minimize your exposure to the sun. During the summer, between the hours of 10 a.m. and 2 p.m., the body is much more susceptible to damaging rays. If possible, stay out of the sun during this peak time. If you must work in the sun, apply adequate sun protection.
Watch the Clouds - Year-round protection is essential to a good skincare regimen. Sun protection is still necessary during the winter months since snow and ice reflect the sun's rays. On cloudy days, the sun can be extremely dangerous as it penetrates the clouds without people realizing it.
Know Your Vulnerabilities - Some medications and skincare products make you more vulnerable to the damaging effects of the sun. Ask your doctor if the medications he is prescribing for you can make your skin more likely to burn. Look at the label on your skincare products to see if there is a warning about sun exposure. If so, be extra vigilant about protection, consistently applying sunscreen daily before leaving your house.
Sunscreens That
Protect Your Skin from the Sun
There are many sunscreen products to choose from, but some brands offer better protection than others. Look for a product with a high SPF, particularly if you have fair skin. Yonka offers a sunscreen with an SPF 40 23 specifically designed for those with skin more vulnerable to the sun's rays. It is also important to inspect the ingredients used to provide protection. One of the best is zinc oxide, a key ingredient in Fenix sun care products. Both Yonka and Fenix products slow the effects of aging and reduce the risk of skin cancer due to sun exposure. People with oily skin often dislike using sunscreen because it clogs pores and leads to breakouts.
G.M. Collin offers a sunscreen specifically for oily skin. It offers adequate protection from the sun without contributing to breakouts. G.M. Collin also offers a comprehensive line of other sun protection products designed for every need and skin type. UV Filters and SPF Levels - Anthelios SX from La Roche Posay is an SPF 15 moisturizer that protects the skin from UVA and UVB rays through an ingredient called Mexoryl SX that acts as a UV filter. It protects skin cells and helps you maintain a youthful appearance. Applying this sun protection to the face daily not only filters UV rays but also keeps the skin hydrated. Peter
Thomas Roth's oil-free sun block is another product that effectively protects skin to ward off aging. It is a powerful SPF 30 product that is fragrance-free and non-irritating and can be used on all skin types. Using a sun block, whether at the beach or in the mountains skiing, is advisable as sea water, sand, and snow are very reflective and can increase the sun's damaging rays by up to 80%.
Using sun protection as a regular part of your skincare routine is just common sense – protect your skin from the elements and maintain your skin's vitality. Sun protection keeps your skin looking youthful, vibrant, and hydrated.
Liquid error (templates/article line 10): Could not find asset snippets/relatedblogs.liquid