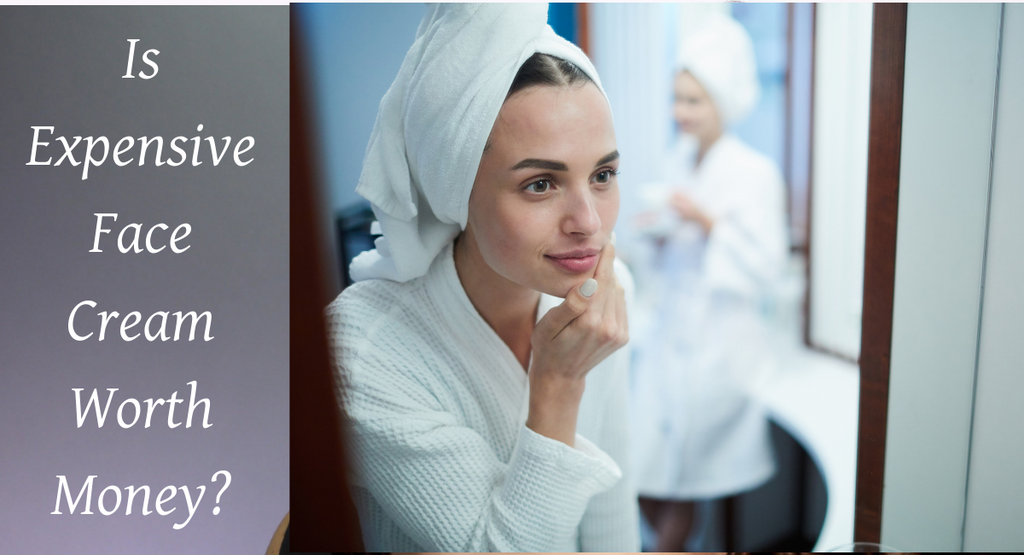 Are you concerned about the high price of skincare products? As you look through what face cream to buy next, it can be hard to balance premium skincare with your budget. There seems to be a common theme of expensive products, but is costly face cream worth money?
 The Truth Behind Expensive Face Cream 
The truth behind expensive face cream is not always in high-end ingredients. One of the well-known ingredients that many dermatologists recommend for skin is Retinol. Retinol naturally works with your skin to regenerate cells for healthy skin that fights the wear of age. 
Cosmetic chemist Donald Frey says that the ingredients typically cost between $20-$30 for a good product that contains Retinol. For any product that costs more than $50, you pay more for the product's packaging than the actual ingredients. 
Expensive face cream worth money will have the necessary ingredients to help you achieve a natural and healthy look for your skin. Yet, it is possible to find an expensive face cream that is within a reasonable budget.
 The Market of Expensive Face Cream 
Liz Earle, a widely known expert in beauty and the co-founder of Britain's largest independent beauty company, has claimed that many expensive face creams are a complete waste of money. 
Earle is disenchanted with the marketing phrase "anti-aging," which has shaped much of the demand for premium skincare products. She denotes the need and the companies who have created a negative stance towards aging for the sake of making a profit on skincare. 
In reality, aging is a natural process for the skin. While expensive face cream can give people the satisfaction and experience of feeling like they are fighting age, it is the natural ingredients that make all the difference in achieving healthy skin. 
The Research Behind Expensive Face Cream 
You may be wondering how to find a suitable face cream when marketing brands seem to be trying to convince you they have the best product at a high price. 
The market of expensive face cream products has created a demand for premium ingredients, but also the façade of the need for expensive products. Expensive products are not always guaranteed to help your skin, so it is essential to know the ingredients that work with your skin. 
By looking into the company you buy from to discover their business practices and their clinical trials for each product, you can find what expensive face cream is worth money for your skincare needs. 
In reality, the expensive face cream brands come with a price of marketing, premium ingredients, and a middleman cost. 
Dr. Mostamand, Author of Ageless Skin Obsession, saw the problem with high-cost skincare and created a premium skincare line that is calling the expensive skincare industry into question. 
With essential natural ingredients that have been clinically proven to work, he has revealed the reality of what skincare needs are and how expensive face cream may not be worth the high marketing price that it is valued at. 
Many high-end companies reveal their brand story is one of luxury. With a high-profile target audience in mind which seeks to splurge on expensive face cream worth money, they can market at a higher price to reach their intended audience. 
While many marketing campaigns are targeted towards skincare luxury, many smaller companies offer natural ingredients that work just the same as those who compete for a higher profit margin. 
Make Conscious Purchasing Decisions 
The best way to find an expensive face cream worth money is to make conscious purchasing decisions. Be aware of the skincare industry and how many products are sold at higher prices because of marketing and the middleman price. 
While the experience of a brand is essential to some, many seek affordable skincare that has premium ingredients for healthier skin. Each person chooses their products differently but prefers to be informed about what you are purchasing and the company behind the product. 
No matter your style, your skincare needs, or your budget, you deserve to have healthy skin that you can afford. When it comes to choosing expensive face cream worth money, always choose to be well informed to make conscious decisions for your health, skin, and budget.
Liquid error (templates/article line 10): Could not find asset snippets/relatedblogs.liquid